I am really excited about these finely woven woollen fabrics.  They are made from British wool and are woven in Yorkshire.   Several quilting magazines have featured woollen fabrics.   The colours are so subtle and names like heather, moorland, sea scape and sandy shore spring to mind. Some new pinks and greens and bright colours have now arrived.  I have been using them to make, hearts and flowers – on a ring or as a brooch as well as lap throws.  As the throws  have caused a lot of interest we have put together some packs for people to create their own throws.
Summer Pastel Throw – 36 x 8 inch squares= 36 x 4.5 inch squares  £120.00      
Heather Moorland Throw – 36 x 8 inch squares= 36 x 4.5 inch squares  £120.00      
Autumn Throw – 36 x 8 inch squares only   £100.00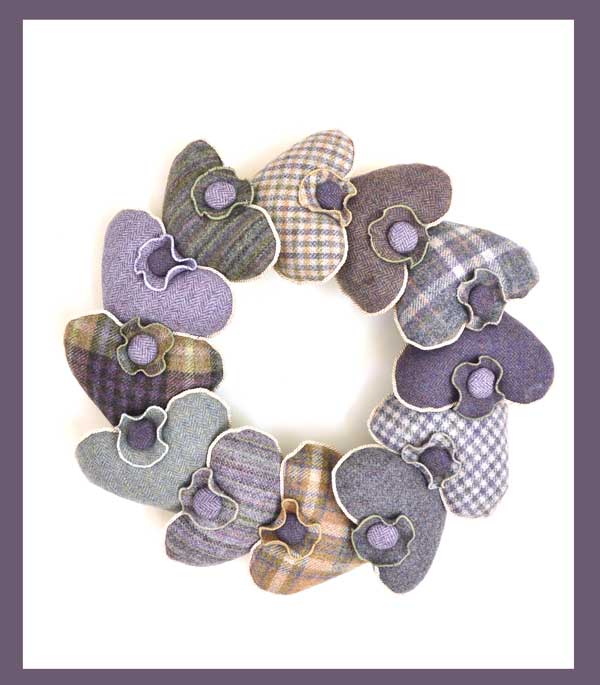 This wreath was made of 12 hearts (cut from a 6 inch square).  I used the button making tool to cover the buttons, which worked well. The hearts are sewn onto a 12 inch wire frame.    
I made these flowers to show case the lovely wools.  Each flower consists of three circles of wool – 4, 3 and 2 inches.  I then used the zigzag/satin stitch on my sewing machine to edge the flowers which made them curl!  The flowers make lovely brooches – see the Kits page.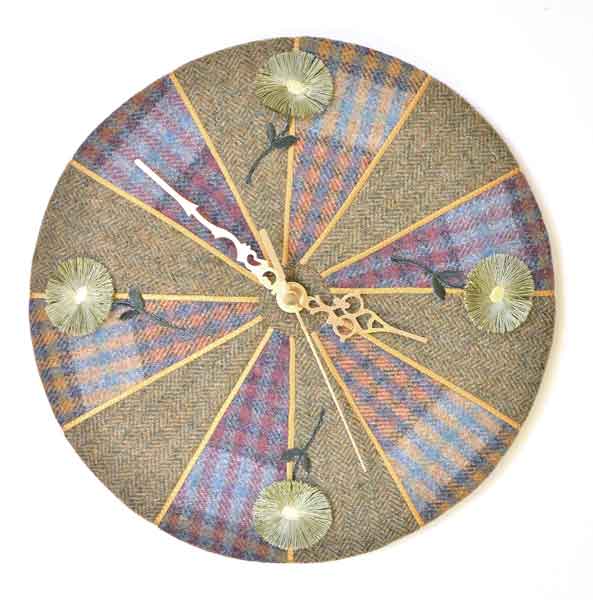 A clock made from wool fabrics.
We hope you are enjoying browsing through our products, if you have any questions or would like to make an order please fee free to call us.