Shows 2023                                                                                                        
Spring into Wool – 1-2 April 2023 at                                                                                                       The Grammar School, Harrogate Road, Leeds LS17 9NA.  10am-4pm.  www.springintowool.co.uk
Great Northern Quilt & Needlecraft Show – 29 September- 1 October 2023 at                                 The  Showground, Harrogate, HG2  8NZ
News and What's New
This long enforced period of being at home has given me the time to sort out a lot boxes and finish off various projects – like my leaf jacket.  For years I have been saving small scraps of Liberty fabrics to make into cards.  Now I have done so and am selling them for charity.  The small squares are bonded onto iron-on Vilene.  I then attach ribbon, using double sided super sticky tape and finally attach a small sequin to the centre.  I started using buttons but found that they will not go at the normal letter postage rate.
My book – The Christmas Collection – an A4 soft back book, price £9.50 is the result of lockdown.  I  had the idea of creating a Christmas alphabet for a long time.  Finding projects for certain letters proved impossible and there were several ideas for some letters, so I called it the Christmas  Collection.  It consists of 27 designs.  I have made them into small wall hangings (finished size 7 inches) and linked them together by sewing buttons into each corner.  They could also be hung like bunting.  Some of the ideas I have used as Christmas cards over the years.  People are frequently telling me that they don't need any more supplies but just ways of  using up what they have so I hope this will inspire them.  The cost is £9.50.   For those of you short of background fabrics I have made some packs of 5 x 8in squares in various colours – £4.50 – find them on the Accessories page under Fabric packs.
Cards made from Liberty fabric 
Fabric
Tomten's Christmas – a panel of 21 different designs by Eva Melhuish – £7.50  Eva's Swedish background is evident in these charming images.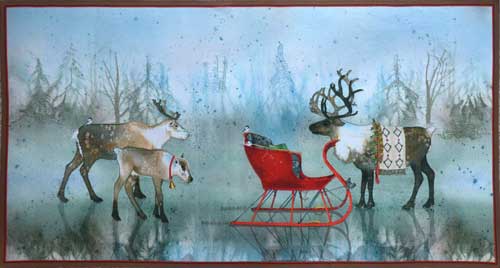 Lake Caribou –  Fabrics – Panels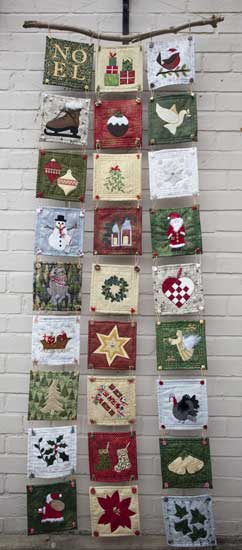 Summer Pastel – wool throw -Go to Fabrics – Wool
Safari – Fabrics – Panels